Dear Reader,
Take a look at this:

It is a crypto wallet with 1.2 bitcoin inside it.
At time of writing that equates to just over £10,000 worth of bitcoin.
In 10 days' time, at approximately 2:57p.m, I will give it all away to six lucky investors .
I might give it to you.
And if I do, you're free to do with that bitcoin as you please…
Forecasts are not a reliable indicator of future results
You could convert it straight back to fiat... and take your other half on a cruise to the Caribbean...
You could leave it as is... and potentially watch Bitcoin soar past its $20k high (ultimately making you tens of thousands of pounds)...
Or you could seed it into a few lesser known cryptos… with the potential to move MULTIPLES higher… (and end up sitting on a Royal personal fortune!)
It's that last reason which explains why I am giving away all this bitcoin.
See, it's incredibly rare for you to get a second chance to turn a tiny amount of money into millions…
But that's exactly what's staring you in the face…
Right. This. Second.
Once again the crypto market is spitting out mad-money gains left, right and centre.
Causing some investors to make a bloody fortune.
Look:
Past performance is not a reliable indicator of future results
Clippercoin – 4,550%
Qubitica – 697%
Chainlink – 535%
EduCARE – 1,820%
Egretia – 5,086%
(Jan 1st – Sep 2nd )
With these kinds of profits on the table right now, I want to do everything I possibly can to help everyday investors – such as yourself – profit too.
My name is Nick O'Connor. I head up the London division of the world's largest underground financial publisher, Southbank Investment Research.
And to ensure you extract maximum profit from this NEW boom, I have invited one of the world's leading crypto experts – who I'll introduce you to in a second – to show you how.
This completely FREE, online event is called: Beyond Bitcoin.
At the end, you'll walk away with everything you need to know to make a potential killing in the NEW crypto boom.
But if that wasn't enough…
For attending… you can put yourself in the running to claim a part of the £10,000 worth of bitcoin I'm giving away.
Doing this achieves two things:
It will give six lucky investors ALL the tools necessary to profit.
It will entice as many people as humanly possible to listen to Sam's advice…take action… and potentially make a huge difference in their financial lives.
We get started TODAY (Thursday 26th September) at 2p.m. sharp.
So, if you've got anything in your schedule for then – move it. I fully expect this to be the number one crypto investing event of the year.
Where you will discover:
Three converging forces which mean this NEW crypto boom could eclipse the last…
Everything you need to know about the ONE crypto that could see the biggest and quickest gains…
PLUS – a little-known strategy to multiply the amount of crypto in your wallet… without doing anything at all.
We go live at 2pm sharp. So clear space in your schedule…mark the date in your diary – in bold red pen…
And grab your FREE viewing pass by popping your email address in the link below!
What's more you'll be getting the inside track from one of the leading crypto experts in the world.
Listen: if you saw crypto go parabolic in 2017, you'll no doubt know there's a right way… and a wrong way to play this market when it's on the move.
The wrong way?
Listen to what your taxi driver…
Or your mate down the pub has to say…
Or to randomly speculate on cryptos hitting the news.
That's a great way to crash and burn in this high risk market.
The right way?
Have an expert in your corner with a proven track record making a killing in the crypto market.
Someone who understands it intimately…
And has had their boots on the ground since the market was just a cottage industry. Whose guidance you can trust during the inevitable volatility.
Just a handful of people on earth possess those credentials.
But Sam Volkering is one of them.
Past performance is not a reliable indicator of future results
Sam got in on bitcoin at $12… Ethereum at $10… and traded Ripple for a 20,000% gain.
Here he is on live US TV explaining why cryptocurrencies are the biggest and most disruptive technology of our lifetimes.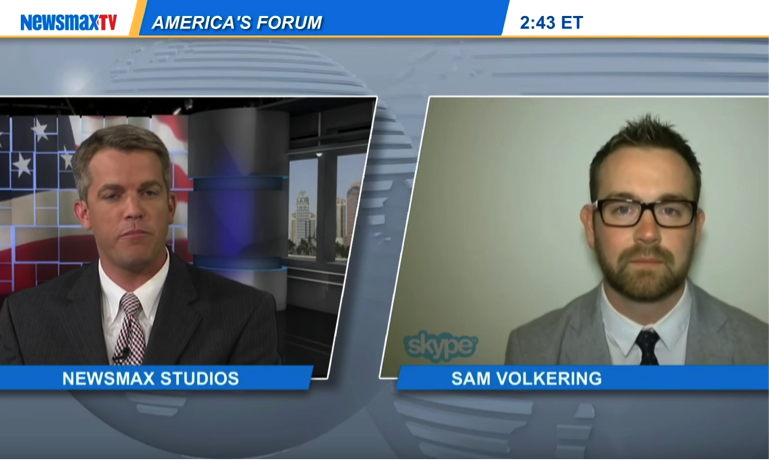 In 2017, Sam published his popular book "Crypto Revolution", which has been read by more than 40,000 people in the UK, US, Australia and China.
And right now he believes the recent ignition in crypto prices is the start of a crypto boom that will make 2017 look like a drop in the ocean!
At 2pm today he wants to get you fully up to speed, so you're in the perfect position to walk home with a windfall when the market goes vertical.
All you have to do is get your name down below for your FREE viewing pass.
Let me quickly walk you through exactly what we're going to cover during this exclusive event…
First, you'll be privy to a world exclusive…
LIVE MASTERCLASS:
How to TURBOCHARGE your crypto gains
Did you know that in bitcoin's early days there was a website you could go to that dispensed free bitcoin?
It was called 'The Bitcoin Faucet'.
You simply went to the website… typed in your wallet address… and the website dispensed 5 whole bitcoins directly to your wallet.
That was back in 2012. It's no longer operational.
But Sam has a very similar technique to multiply your crypto holdings.
And he will walk you through it step-by-step at 2pm today (Thursday 26th).
Once you've applied this technique to your own crypto, that's it. You don't need to do anything else.
You don't need to keep an eye on your crypto. There's no 'upkeep' required.
You just sit back and watch the amount of crypto in your wallet multiply in size.
By how much could you expect your crypto to increase?
Well, Sam is using this technique with one of the cryptos in his personal portfolio to more than double it annually.
Now, you may be thinking that this technique will be overly complicated or has some type of 'catch'…
Well, it's certainly not for crypto beginners. You'll need to be comfortable with buying and selling crypto to do it. But if you are, that really is it.
Sam is yet to demonstrate this technique to the public.
But at 2pm TODAY (Thursday 26th September), you can be one of the first investors to learn this technique.All you have to do is sign up for your FREE viewing pass by popping your email in the box below.
All you have to do is sign up for your FREE viewing pass by popping your email in the box below.
Once Sam has walked you through his exclusive method to supercharge your crypto holdings he'll give you the full details on what he believes is…
The ONE crypto set to DOMINATE the NEW crypto boom
Sam calls his first crypto pick:
The NEXT Ethereum
Before 2017, bitcoin's overall market share of the crypto space had never dipped below 80%.
It was the crypto market.
That all changed during the great crypto boom of 2017, when one crypto soared from a market share of almost nothing…
To nearly overtaking bitcoin's market dominance.
That crypto was Ethereum.
And investors who knew about Ethereum… who saw its potential… and got in right at the start of the 2017 crypto boom and sold at its peak made a whopping 17,969% gain.
That type of action turns just £200 into £36,000!
Forecasts are not a reliable indicator of future results
Sam was along for some of that ride, too…. He first bought Ethereum when it was just $10.
And now Sam has spotted a crypto with the same set of characteristics Ethereum exhibited before its meteoric rise.
At 2pm today, Sam will show you why it could follow in Ethereum's footsteps.
And catapult itself from complete obscurity… to becoming the next 'Blue Chip' crypto. (And make some investors flat out rich in the process.)
And why it's the ONE crypto that could benefit from $100 trillion worth of INSTITUTIONAL money entering the market.
If he's right, a tiny "punt stake" of just £500 could return you as much as £75k!
Forecasts are not a reliable indicator of future results
This won't be the only crypto to rocket, though. (Although many more will turn out to be duds, this is the high risk world of crypto after all)…
Which is why – on Thursday's special event – Sam will also give you the rundown of his second top crypto in the NEW crypto boom, too.
Sam has asked me to keep the details close to my chest for the time being. But what I can tell you is this crypto possesses something very special that retail and institutional investors alike are about to be rushing to get their hands on.
See, that's the beauty of the crypto market.
When it's hot… a tiny grubstake – money you'll never miss… can quickly turn into enough money to make a measurable impact in your life.
I'm talking about enough money to buy a brand new car… pay off the mortgage… or buy a property on the Italian riviera.
And right now, it's hotter than EVER.
And at 2pm TODAY (Thursday 26th September) you have a chance to get yourself completely clued up… and ready to clean up in the weeks and months to come.
Remember: Attendance is completely FREE.
If you didn't make as much money as you would have liked… or if you missed out completely on the nosebleed gains of the last crypto boom…
Get your name down immediately.
Doing so will allow you to find out EXACTLY what to do to make maximum profit from the NEW crypto boom.
And finally, just for attending our special online seminar at 2pm TODAY, you'll have a chance to win in our…
£10,000 bitcoin giveaway
Sam is so excited by what could be about to happen in the crypto market… he's decided to give away £10,000 worth of bitcoin…
And you have a chance to win when tuning in.
ONE investor will walk away with £5,000 worth of bitcoin
And FIVE Investors will walk away with £1,000 worth of Bitcoin
For your chance to win some of this £10,000 worth of FREE bitcoin :
Enter your email in the box below, so we can remind you before we go live
Tune in to our Beyond Bitcoin online seminar at 2pm today (26th September)
Follow the simple instructions I give you during the event.
It's worth signing up for our Beyond Bitcoin online seminar just for your chance to win a portion of the £10k worth of FREE bitcoin.
So don't delay. Get yourself in the game by putting your name down in the bow below, NOW:
PLUS – you'll get access to a whole series of primer videos.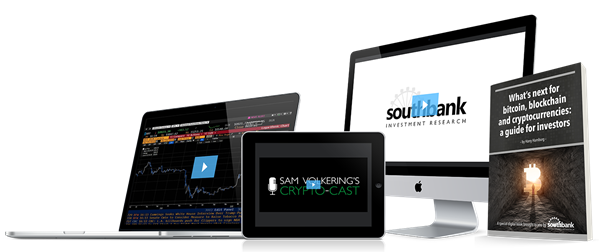 Free e-book: "What's next for bitcoin, blockchain and cryptocurrencies: a guide for investors – worth £50
Written by crypto expert Harry Hamburg, this soon to be released e-book takes you deeper into the crypto market – with special, dedicated analysis on top cryptos like Ethereum, IOTA, and BAT.
Expert analysis video from $600m investor Eoin Treacy – worth £50
In this revealing video, recorded from Eoin's personal $25k a year Bloomberg terminal, you will get an expert reading of what's going on with Bitcoin... and where you can expect the price to go next. It normally costs a few hundred quid to access Eoin's private circle. But I have opened this up to you for free.
Video prep series – exclusive analysis on the crypto resurge – worth £50
I'll share a crucial head-start with you on this opportunity in a series of short videos about the cryptos I have lined up for you and my worlds-first "crypto payout strategy"
Your guide, videos and e-book are worth over £100. But they are FREE for you, if you get your name down now (below). And they are yours to keep and use to help you improve your crypto investing for years to come.
I'll send you everything you see above as the big day draws closer – to make sure you are FULLY up to speed and ready to strike on the coins I have lined up for you!
You can only gain access to this valuable research if you get your name down, now:
If you do just one thing this year towards becoming more financially free…
Attending the special Beyond Bitcoin event should be it.
As you'll discover at 2pm today, the new crypto boom could put to shame anything boom you've seen in the markets… EVER.
And right now, you have the chance to have someone who's been there and done it to get you fully up to speed in language you'll understand.
He'll also give you step-by-step instructions to move on the coins he expects to rocket in the coming weeks and months.
Listen:
I'm sure you heard the stories of investors turning a few hundred quid into millions in the last crypto boom.
Maybe you made some nice profits yourself…
Maybe got in late on it…
Or maybe you didn't get in at all…
Either way, now is your chance to make sure you don't miss out on this one.
Because it could eclipse the last.
Get your name down in the box below.
It could end up changing your life.